Who said EMU's can't fly?
More and more customers are reporting that they have taken their EMU Trike® not only on domestic travel, but international travel as well.
We were so thrilled to see the following post on Facebook from our customers of over three years! We love how they refer to their EMU Trike® as their 'magic carpet'.


"Traveling again with our magic carpet – EMU Trike® scooter from American Scooter Company…thank you!  On this trip our EMU traveled 12,000 miles (to the Philippines and back). We used it everywhere: planes, buses, taxis, subways, ferries, outriggers, trains and even on a rickshaw!
Love our EMU! – Rob & Hilary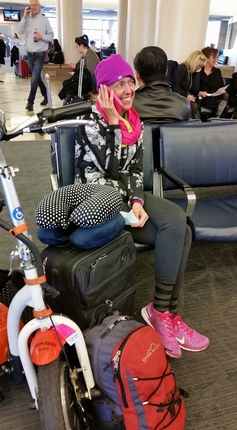 ENJOYING THE ISLANDS IN HAWAII
One of our valued customers upon returning from a cruise to Hawaii said…"The EMU was great to get around the ship and to explore the islands. Everyone wanted to know about our EMU Trike®, including the ship's staff!
Although many of our customers have traveled with their EMU Trike® using different airlines, we are not able, as a company, to 'guarantee' this service will be provided. We try to give you the most accurate information that we can but American Scooter Company cannot and will not be held responsible or liable for any refusal to fly with the EMU Trike®.

TIPS:  We recommend that each traveler with an EMU Trike® (or any mobility scooter) contact the airlines at least 48 HOURS prior to the flight to learn of their requirements regarding mobility scooter service. Many airlines have a 'wheelchair card' or form that they request be completed. Be sure the airline representative understands that the EMU Trike® is indeed 100% ADA Compliant, will fit into cargo area in upright position, that it will remain upright throughout flight, weighs only 70lbs, the lithium-ion/polymer battery is secured to the unit (not removable), protected inside a NON-metal casing, bolted to the base to prevent movement during flight and capped with a secure non-conducive cover secured by 4 screws. Make sure the rubber cap is placed over the connecting terminal or completely cover terminal with tape.

NOTE REGARDING BATTERY WATT HOURS (WH): For batteries that are REMOVABLE, there is usually a limit of 300 Watt Hours because the battery is able to be taken with the passenger in the cabin as "carry on" and stored in the overhead bin or under a seat. However, because our battery is SECURED within the unit, it is NOT considered what airlines call "collapsible" (because the battery is NOT meant to be removed and carried) therefore airlines such as UNITED AIRLINES (according to their website) currently have no limit as to the Watt Hours of a single battery that is secured within the unit. 
The Watt Hours of our lithium-ion battery is 480WH (48V X 10AH).
ABOUT CRUISE TRAVEL

We have not yet heard of a customer being denied access a cruise ship with their EMU Trike®. In fact, several customers have sent us photographs of them riding there EMU Trike® on board and around the ports and islands they visit.

TIPS:

Mobility scooters must be declared at the time of booking your cruise, or as soon as the need is known, otherwise your scooter may be denied boarding.   
The doorway of a STANDARD cabin 
will be too narrow (about 23″) to pass through in a mobility scooter or wheelchair. 
Passengers who require the use of a mobility scooter must occupy a fully "accessible" cabin or suite. 
Fully accessible cabins feature wider doorways (about 32″) into the cabin and into the bathroom, as well as sufficient floor space for wheelchair manoeuvrability. The EMU Trike® is only 27″ wide. Fully accessible balcony cabins may also feature ramped access to the balcony. 


Most ships will require that you store and charge your EMU Trike® ONLY in your cabin. This is to ensure that all fire doors, corridors and elevator lobbies are kept clear for emergency evacuation. When parked throughout the ship, your EMU Trike® must be parked out of the way to allow safe and easy access by other guests and crewmembers.

Note: Crewmembers are not permitted to lift assistive devices.


If you will be bringing a wheelchair with you it is essential that you provide the cruise line with the accurate dimensions of your EMU Trike®.  Your travel agent should be able to help you with this.
Disclaimer Liability: 
All content is subject to copyright and may not be reproduced in any form without express written consent of American Scooter Company LLC.

While American Scooter Company LLC strives to make the information on this website as accurate as possible, American Scooter Company LLC makes no claims, promises, or guarantees about the accuracy, completeness, or adequacy of the contents of this site, and expressly disclaims liability for errors and omissions in the contents of this site.

American Scooter Company LLC disclaim liablity for the content that is linked from with this website, American Scooter Company LLC will not be held responsible for the content on all the other websites to which you link from this site. All links from this website to another is for information only.