One of our valued customers took her EMU Trike® on a cruise ship with her. Here is Nivea doing some shopping.
Give the gift of mobility
Change the color of your EMU Trike®!
Come see us in Fort Myers, FL!
Our storefront is located at Fleamasters in Fort Myers, FL. Come on in and test-drive an EMU Trike® or just stop by say hello. We'd love to meet you! We can help you to find the best electric moped for adults – motoped.com.
The EMU Trike® can easily fold down to put into the back of a compact SUV or broken down to store in a trunk of a car.
An image of our latest production run of the new EMU Trike®.
American Scooter Company
Big enough to cope, small enough to care.
Some of our latest customers enjoying their new EMU Trike®
Here is a collection of some of our valued customers with their new EMU Trikes®. Our customers tell us that they love how convenient and versatile the EMU is. One of our customers recently flew with her EMU to Vegas and loved that she just went to the airport and rode straight up to the gate. Another customer had a sports car and loved that it broke down and stowed into his trunk. How will you use your EMU Trike®?
EMU Trike®…bringing families together again.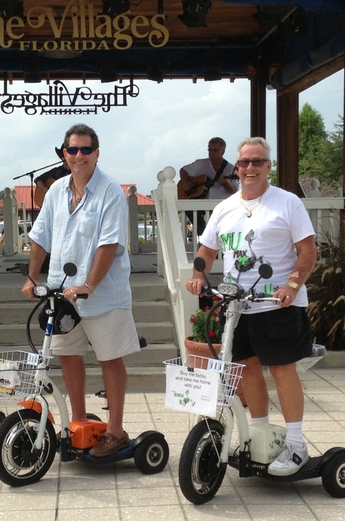 If you are fortunate enough to live near your grandchildren, then you know first-hand how hard it can be just to keep up with them!
This can be especially true during family vacations when your independent mobility is restrictive and may limit your ability to partake in some of the family excursions or activities.
The EMU Trike® allows you join the others at amusement parks, nature trails, etc., and enjoy that quality time with your entire family. And who knows? You may even beat your grandson in a race or two!
EMU Trike®…rediscovering mobility,

Rich has MS and wants to show others that the EMU Trike® is not only a great way to have fun getting around,  but for those who struggle with independent mobility, it can also be an essential, practical and uplifting mode of transport.

When speaking with others who use electric mobility units, he asks, "When was the last time you went down the street with a friend or family member and had a conversation eye-to-eye? Are you tired of being stared at or being looked down upon while out and about on your mobility scooter or motorized wheelchair?"

Rich's answer: "The EMU Trike® has that special design that changes people's stares from "Oh that person can't walk" to "Oh, that is so cool!" The EMU Trike® actually evokes this type of comment."

Rediscover mobility…with dignity. 
EMU Trike®…getting around, down-town.
In most states, the EMU Trike® falls under the same laws as a bicycle. This means that typically, you can operate your EMU in the same places you can ride a bicycle.
Plus, with built in safety features of the EMU Trike™, such as headlights, brake-lights and turn signals – driving at night is safer too!

If you are running errands and have to dart into the bank, you can do so confidently as you set the security alarm system using your remote key fob!
EMU Trike®…styling a more 'sporty' mode of transport.
The EMU Trike® is designed for multiple applications and truly lends itself to being a stylish mode of transport.

DID YOU KNOW…that you can ride your EMU while sitting or standing?
 
For a more 'sporty' look (as seen to the left), simply remove the seat and pole.

Either way, you will find your ride comfortable and fun!

*American Scooter Company recommends that riders wear a helmet when riding the EMU.

Note: Battery Covers and Fenders come standard as white but we now offer several optional exciting colors to choose from.
From time to time we have special deals on new and used products. By joining our mailing list you will be the first to know about all our special offers. We promise that we never share your information with a third party. Your contact information is for internal use only.
Beware of cheap imitations made from sub–standard materials such as heavy lead–acid batteries and small under-powered 350 watt motors as well as those with only a 90 day warranty.
We truly believe that the EMU Trike® is the best-built electric trike scooter on the market and that our customers enjoy after–sales support that is second to none.
We offer a full 1–year warranty on all new EMU Trike® scooters.
The EMU Trike® can only be purchased through American Scooter Company and its authorized sales agents & dealers.

Our company is rated A+ with the Better Business Bureau

.
Disclaimer Liability: 
All content is subject to copyright and may not be reproduced in any form without express written consent of American Scooter Company LLC.

While American Scooter Company LLC strives to make the information on this website as accurate as possible, American Scooter Company LLC makes no claims, promises, or guarantees about the accuracy, completeness, or adequacy of the contents of this site, and expressly disclaims liability for errors and omissions in the contents of this site.

American Scooter Company LLC disclaim liability for the content that is linked from with this website, American Scooter Company LLC will not be held responsible for the content on all the other websites to which you link from this site.
The EMU is a trade mark of American Scooter Company, LLC