Customer Testimonials
Click the video below to hear what our customers are saying.
Scroll further down to read customer comments.
We were so thrilled to see the following post on Facebook from our customers of over three years! We love how they refer to their EMU Trike® as their 'magic carpet'!
EMU Trike® on the open seas!
One of our valued customers has just come back from a cruise. Jerry said that the EMU Trike® was great to get around the ship and to explore the islands. Everyone wanted to know about the EMU Trike®, including the ship's staff!
An email from one of our newest customers.
This is a great email from one of our valued customers.

Andrew,

Thanks your instructions were perfect. The Emu just made a potentially disastrous airport experience a breeze. Plus got a lot of compliments on the trike. Love it and will sing the praises of you and your company anytime.

Regards from Tahoe
The EMU Trike® and Hawaii…now THAT's great customer support!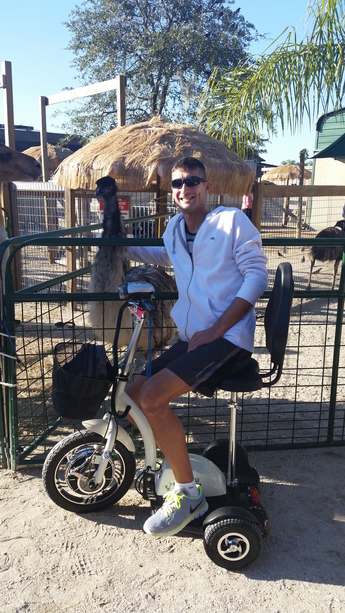 American Scooter Company is indeed committed to great customer service.

This was demonstrated when one of our customers went on a cruise to Hawaii. Jeremy was excited at the thought of exploring the ship and the islands on his EMU Trike®. Unfortunately, when Jeremy went to charge his trike, he realized that the charger wasn't working. He contacted us and because Jeremy relies on his EMU Trike® as his only form of transport, we had to get him mobile again so that he could enjoy his well-earned vacation.
By the time he arrived at his first port-of-call, there was a new battery charger waiting for him and he was thrilled!

To the left is the picture that Jeremy emailed to us so that we can see him enjoying his vacation as planned. As you can see, he and his EMU Trike® are making friends with a REAL LIVE EMU!!!

We at American Scooter Company strive to ensure that our customers know they are valued and that we truly care about keeping them mobile and active.

It's the EMU Trike® difference. A quality product with real customer support you can count on.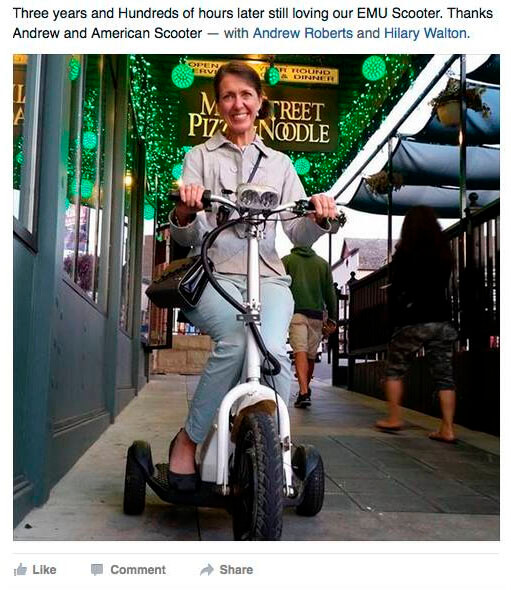 "My wife and I are both recently retired and we lead a very active lifestyle. We love the outdoors and we travel all over this great country taking in all the sights. We especially like to camp in the great outdoors. We attended the large RV Show in Hershey, PA last year and when we saw your EMU Trikes we were hooked. Being a Mechanical Engineer by trade, I was very impressed with the quality of the trike and your sales agents were knowledgeable and very personable so we purchased two of your trikes right there. I have run my trike around our home town doing errands and every time I stop someplace, I have to answer 20 questions from all the people who come over to look at my trike. We have taken our trikes camping with us several times and it is difficult going through the camp grounds because everyone comes out of their campsite and stops us to ask all about our trikes. I don't mind "showing off" our trikes and we get to meet a lot of nice people from around the country.
One very satisfied customer!!"
-John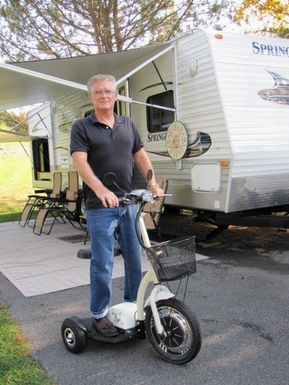 "Thank you American Scooter Company, for giving me back my mobility! I can now go shopping and enjoy being in the sunshine." – M. Evans, FL
"Just wanted to update you on how my travels went to Fort Worth TX for my nephew's wedding celebration last weekend. My EMU worked out great, we were able to walk to many of our destinations which I breezed right along on my EMU. In and out of elevators doing my 360's which left everyone dumbfounded.  Then the best was the night celebrations when I could actually look people in the eye and go from person to person on my own – and not have to sit in a seat and wait for them to come to me. I LOVE MY EMU" – Sent from Samsung Tablet, Lisa
"I had to write to you to tell you how impressed we are with our EMU Trike's. As big RV enthusiasts we take them everywhere we go. Now my wife can go shopping and I can take mine to the golf course." – J. Simmons, CA
"Thanks again for our liberty to move about – everywhere. We could not continue to do what we love without our EMU." – Mr. Walton
"Thank you Andrew for the excellent service your company gave us. My EMU Trike™ needed a full service and when I got it back, it was like new! Great Job!" – R.Powell, Pittsburgh
"Thank you for your quick response when I had a small problem with my trike. You sorted out the problem over the phone in less than 5 minutes. Fantastic service!!!!" – Smith, Florida
"Just got my EMU-MINI today and my husband put it together in 15 mins. I went to the shopping mall and had so many comments. I will be using my EMU every day, I love it.
Thanks for a great service." – Edna & Jim, Virginia
"We purchased an EMU for a family member and it has given him a whole new outlook on life. He can now go out and enjoy the sunshine and take his dog for a walk. He can now go fishing again. Thank you so much for all your help!" – Pete, Ohio
"Dear American Scooter Company,
I would like to thank you for the excellent service you gave us. We had a problem with the EMU Trike™ we purchased, and your fantastic engineer tried to help us over the phone. After patiently trying to fix the problem over the phone we could not work out what the problem was and so the engineer came to our home and delivered a brand new trike!!!! He took the faulty one away and we have since found out that it was a very simple fix. We love that you stand behind your products and respond quickly and efficiently. Well done!" – Michelle, OH (One very satisfied customer)

"Here is the picture, as promised. The scooter is fantastic with an endless battery life. I run all over this park daily and it just keeps on going! – Pete, FL

ps.  You might want to think about an odometer in the future!"  
Disclaimer Liability: 
 All content is subject to copyright and may not be reproduced in any form without express written consent of American Scooter Company LLC.

While American Scooter Company LLC strives to make the information on this website as accurate as possible, American Scooter Company LLC makes no claims, promises, or guarantees about the accuracy, completeness, or adequacy of the contents of this site, and expressly disclaims liability for errors and omissions in the contents of this site.

American Scooter Company LLC disclaim liability for the content that is linked from with this website, American Scooter Company LLC will not be held responsible for the content on all the other websites to which you link from this site. All links from this website to another is for information only.